I recently attended a holiday craft fair (only my second one ever as a vendor) and since it just happened I wanted to do a recap and share all my thoughts in hoping it can help out others! While my experience is unique (I'm an expat and attended a closed/invite only holiday craft fair geared towards other expats) I still feel there are tips and lessons that I learned that can be relatable for other small business owners. I have talked about holiday craft fairs in a past post to help others prepare so check them out too if you want more information!
Prep Work
I have only ever attended one other holiday craft fair and while this year I was attending the same one I still had a lot of prep work to do since this was still out of my comfort zone as a primarily online shop. In order to prepare I really looked at what I did the year before and what I wanted to do differently and came up with a game plan from there. I started really thinking about the holiday craft fair and coming up with the game plan 3-4 months in advance.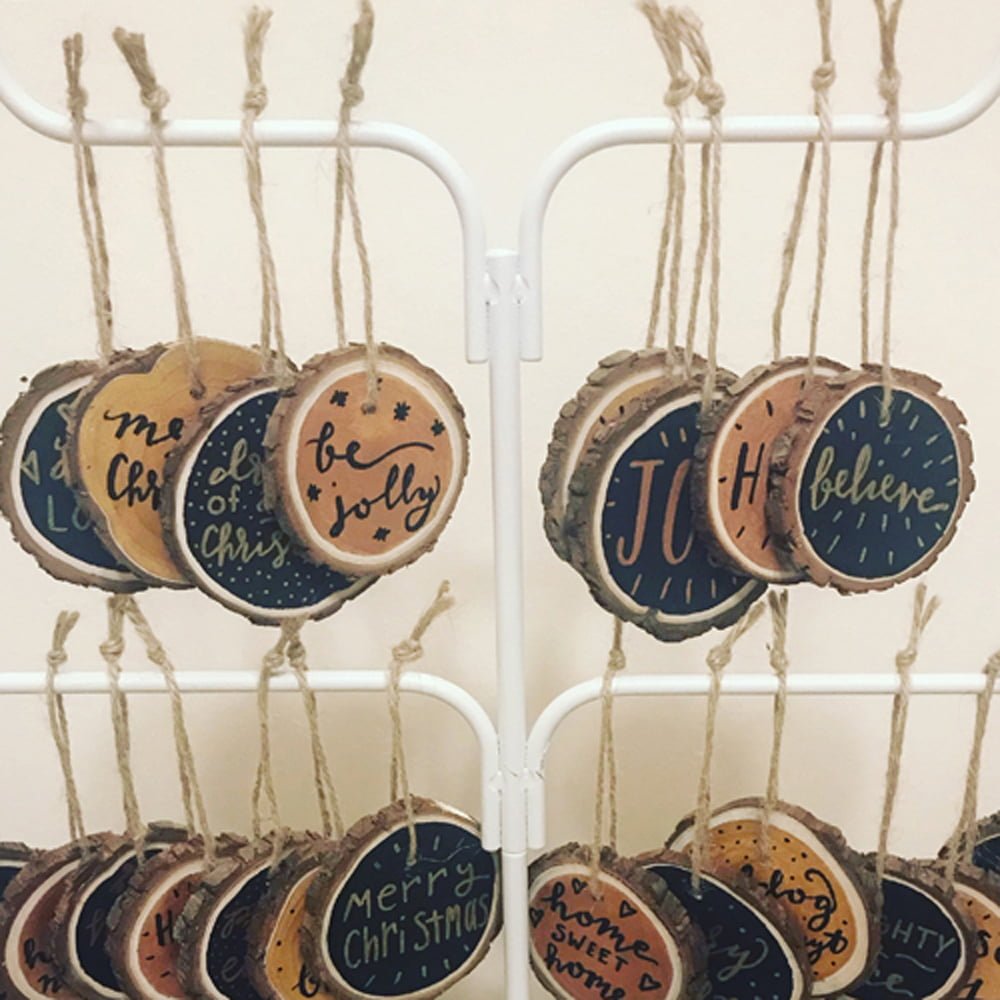 Products
As I mentioned I primarily have my online product shop through Etsy and most of my designs are made to order through drop shipping (which I will go into more details about in another post!). Due to this it makes setting up for a holiday craft fair a little more tricky since I do not carry inventory. Last year I only had holiday cards and 8" x 10" prints. I knew I wanted to have more products this year and at the same time I didn't want to end up with too much extra inventory after the holiday craft fair. So I still kept my inventory small but added in additional products this year to have more variety. I also cut the prints since they did not sell well last year.
Here are the items I included:
Holiday Cards
Bauble ornaments
Tote bags
2019 tea towels
A few other one off holiday decor items
Hand painted coffee mugs
Supplies
The first year I did the holiday craft fair I made due with the supplies I had on hand since I did not have much time to get ready. However this year I wanted to step up my game and since I had more time I planned out everything a little better, especially the supplies I needed.
These are the items I felt I needed to be more legit:
Receipt book
Clipboard
Ornament displays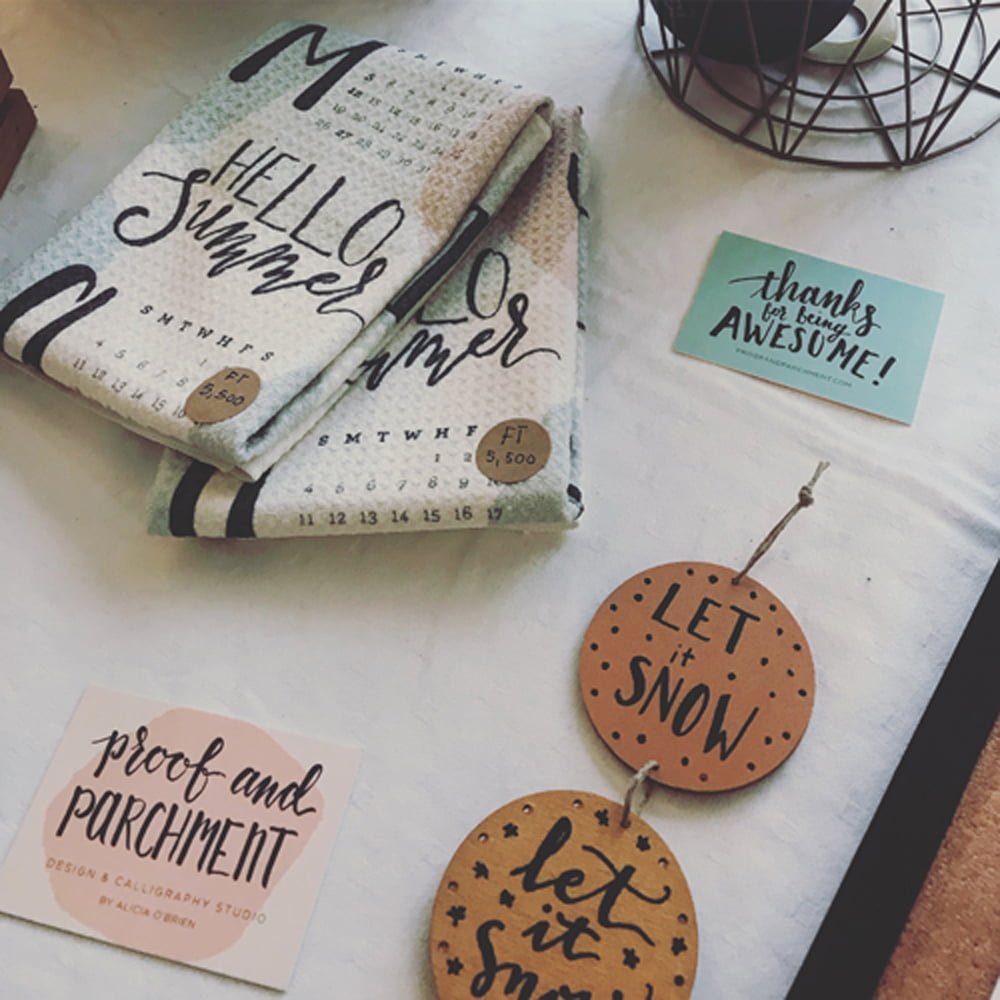 Set Up
In terms of how to set up my display, I did the same as the year before and mocked it up before the actual holiday craft fair and took a lot of pictures to document and help me remember the setup! This is one of my favorite parts, I loved seeing it all come together. Seeing all of my products together in person was super fun and I could definitely see the cohesiveness of my shop, which can sometimes be hard to see when it's just an online shop.
2017 vs. 2018
Here's a quick breakdown of what I did differently between the 2 years:
| | | |
| --- | --- | --- |
| Category | 2017 | 2018 |
| Products | Cards, prints | Cards, ornaments, mugs, tea towels |
| Packaging | Home printed envelopes | Kraft gift bags with stickers, cellophane bags for cards |
| Receipts | Home printed receipts | Receipt book |
| Pricing | Range of $3-$15 | Range of $4-$22 |
The Actual Holiday Craft Fair
Now for the actual holiday craft fair! I have to say it went better than the year before, however there did seem to be a smaller turnout which probably hurt sales. It was so much fun interacting with customers in person and seeing their reactions to my products. Overall I received a lot of compliments and the hand lettered wood slice ornaments were definitely the hot ticket item (only 3 were left!). But on the flip side I did not sell as many cards as last year, which could be due to a lot of reasons like I had more products to pick from and they weren't as prominently displayed.
I would definitely call the holiday craft fair an overall success especially because extra exposure is always good and I did make a profit. However I do have a surplus of inventory now. Luckily they're mostly undated items that can be sold at a later date. Based on this and all of the effort I put in I would do it again since I have learned new things each year and the only way to continue to improve is to build on that.
If you're on the fence about attending an in person craft fair, here's my quick list of the pros and cons that are worth considering. Especially if you're new to holiday craft fairs or holiday bazaars.
Pros:
Exposure
Selling to real people is fun
Market research – real reactions to your products
Instant gratification
Cons:
A lot of prep work & time for one day
Not the most profitable
Leftover inventory
Exhausting as an introvert 🙂
So overall I loved the experience because even though I'm a full on introvert it's still really nice to occasionally have some human interaction and see other's reaction to your products. It's a really great refresher to know that what I'm creating is actually bringing joy to others. If there's anything else you'd love to know just leave a comment!