All the Freebies From Proof & Parchment
The Proof & Parchment blog has been running almost a year now and I love bringing fun content to life here. Whether it's for people who want a little more joy in their lives or to give other entrepreneurs a glimpse into my own business world with tons of tips and advice as I continually learn. Outside of the weekly blog posts I actually share even more content & fun freebies that I wanted to lay out here incase you weren't aware of what else I share!
Monthly Wallpapers
I know I pretty much live on my computer & phone (a habit I'm always working on) but I feel it's more enjoyable when I personalize my wallpaper. I have been doing this since I had my first laptop ages ago and would love to find the most unique and inspiring wallpapers out there. Since starting Proof & Parchment I decided to create my own monthly inspiring wallpapers to share in the world too. And as an extension of that I wanted to create a phone version too! I have a calendar version and an undated version every month. These are sent out in my monthly emails plus I share the phone ones in my Instagram stories. These are always free and I love hearing when others use them on their own devices!
Yearly Calendars
If you haven't noticed I'm all about planning & staying organized! A big way I keep organized is with calendars. I basically love all types of calendars & planners. From my digital Google Calendar to my physical wall calendars and Inkwell Press planner. While I have different uses for each calendar I still needed something different. So I decided like to create a simple printable calendar for broader planning. And since I loved how this calendar worked in my life I wanted to share it! I shared this free calendar in 2018 and have recently released the 2019 version. Personally I use this with my family to plan travel for the whole year, but I'm sure there's a million other ways to use it yourself. It's great to see a few months at time and input holidays, birthdays, etc and then overlay our own travel plans! I send these calendars out to my email list and have also added them to my freebie & resource page (mentioned below).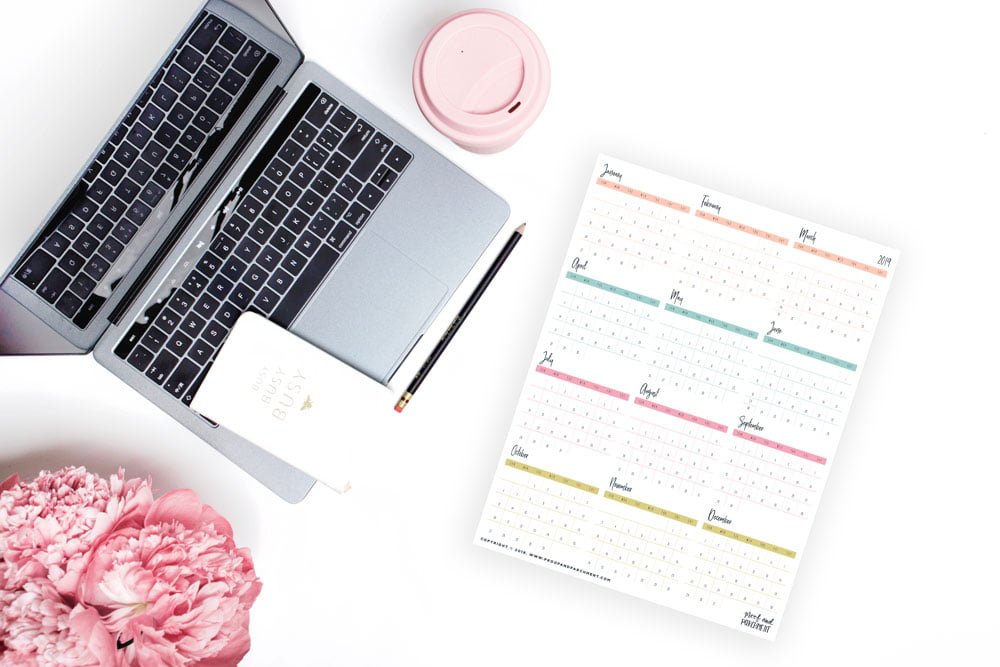 Exclusive Freebies & Resources Page!
Just in the past few months I have started an exclusive freebies & resources page. I have added all the free items from my emails and from my blog on here for easy access to all things Proof & Parchment. Like the theme of this post, this page is of course free & you can get immediate access by signing up for my email list here!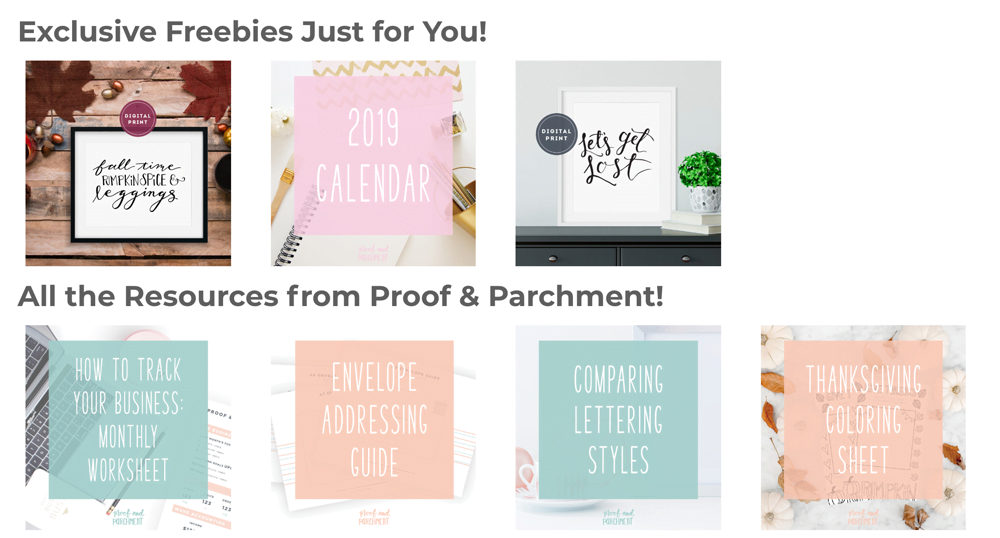 Initial Design Call
Incase you didn't know I also offer design services here at Proof & Parchment. This includes logo, branding, and ongoing graphic design support. With this part of my business I offer a free initial call to anyone interested in my services. So if you are looking to update or start your own business you can set up a call here. I love being able to offer this to see if we are the right fit before we begin working together. I can also help you figure out what type of package is best for you and let you know how the process works.
More to Come!
I plan to continue to up the freebies from Proof & Parchment with even more resources. Like lettering sheets, tutorials & more. If there's anything you would like to see just leave a comment or send me a message!