How to Stay Organized as a Blogger
I've blogged off and on for years but previously it was more on a personal level. But over the past few months I have been blogging as a part of my business and it has been a continual learning process. I wanted to share what helps my stay organized as a blogger and hope it'll help you out too if you're starting out as a blogger or struggling as a blogger.
Schedule
Step number one of how to stay organized as a blogger is to have a schedule. If you have a weekly schedule set up for your blog posts then you can create consistency which is super important for a successful blog. Here at Proof & Parchment my blog schedule currently consists of two blog posts a week. On Tuesdays I post my Joyful Week highlighting a few things that bring joy each week. On Fridays I post a longer article that covers anything from design tutorials to business how tos. I've been sticking to once a week since I started the blog and just recently added the second post.
I keep track of my schedule in Trello which I am hooked on, if you want to try it out here's my Trello referral link.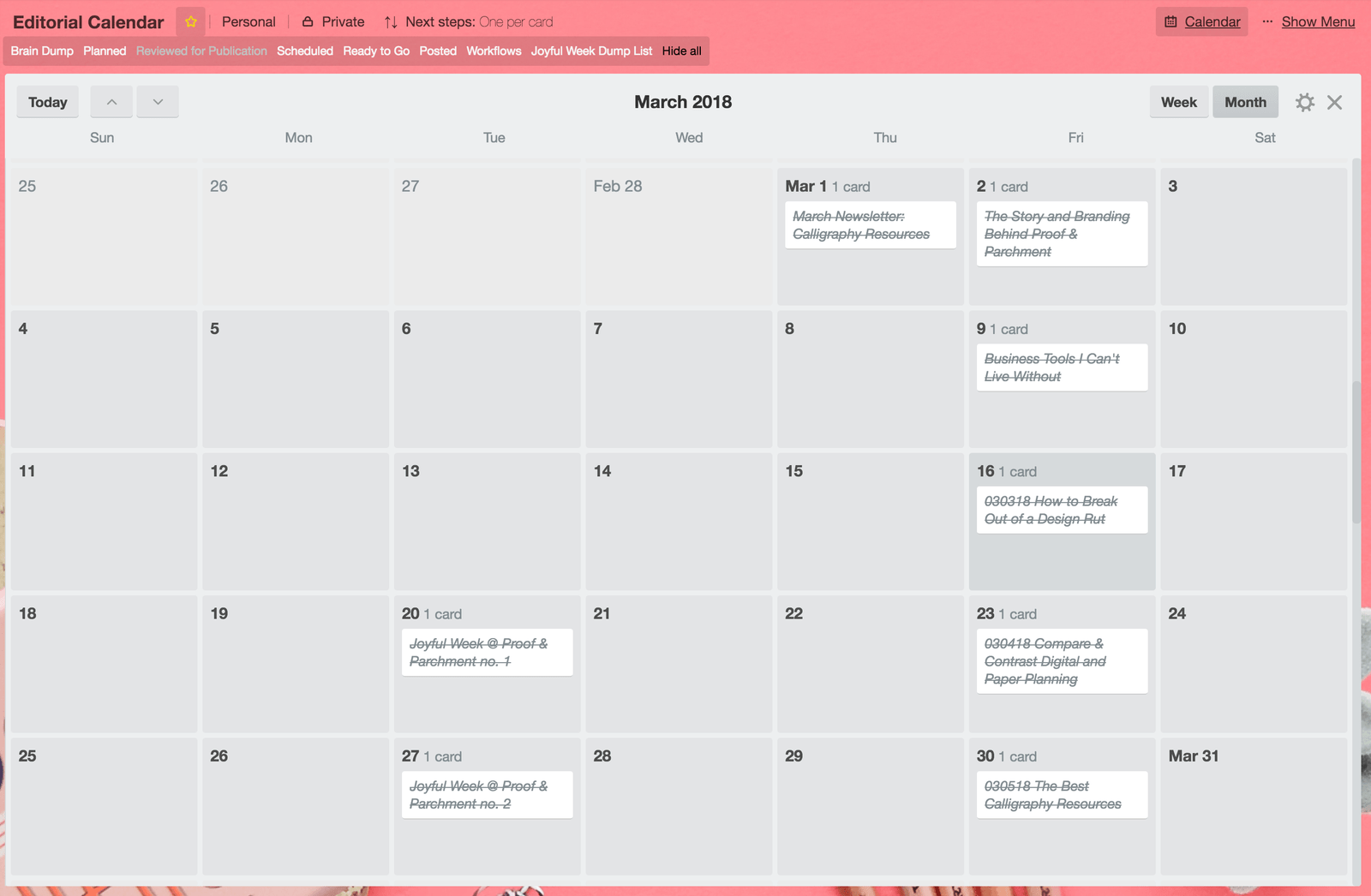 Calendar & Deadlines
Along with creating a schedule it's helpful to keep an organized calendar with set deadlines in order to stay on top of the blog and keep it running consistently. With my blog I try to set up what posts I plan to write a few weeks at a time. In an ideal world I'd have all my posts planned out a few months in advance and streamline it all, but I'm not to that point yet, hopefully down the road this will be a reality!
Post Idea List
In order to actually have a blog you have to have content, which may seem obvious but it can also be hard to keep finding topics and content to write about. One way to stay organized as a blogger is to have a post idea list that you continually add ideas too. There are multiple ways that I generate ideas, like a dump list of everything related to my business topics or whenever I finish new projects or client work I like to add them as blog ideas.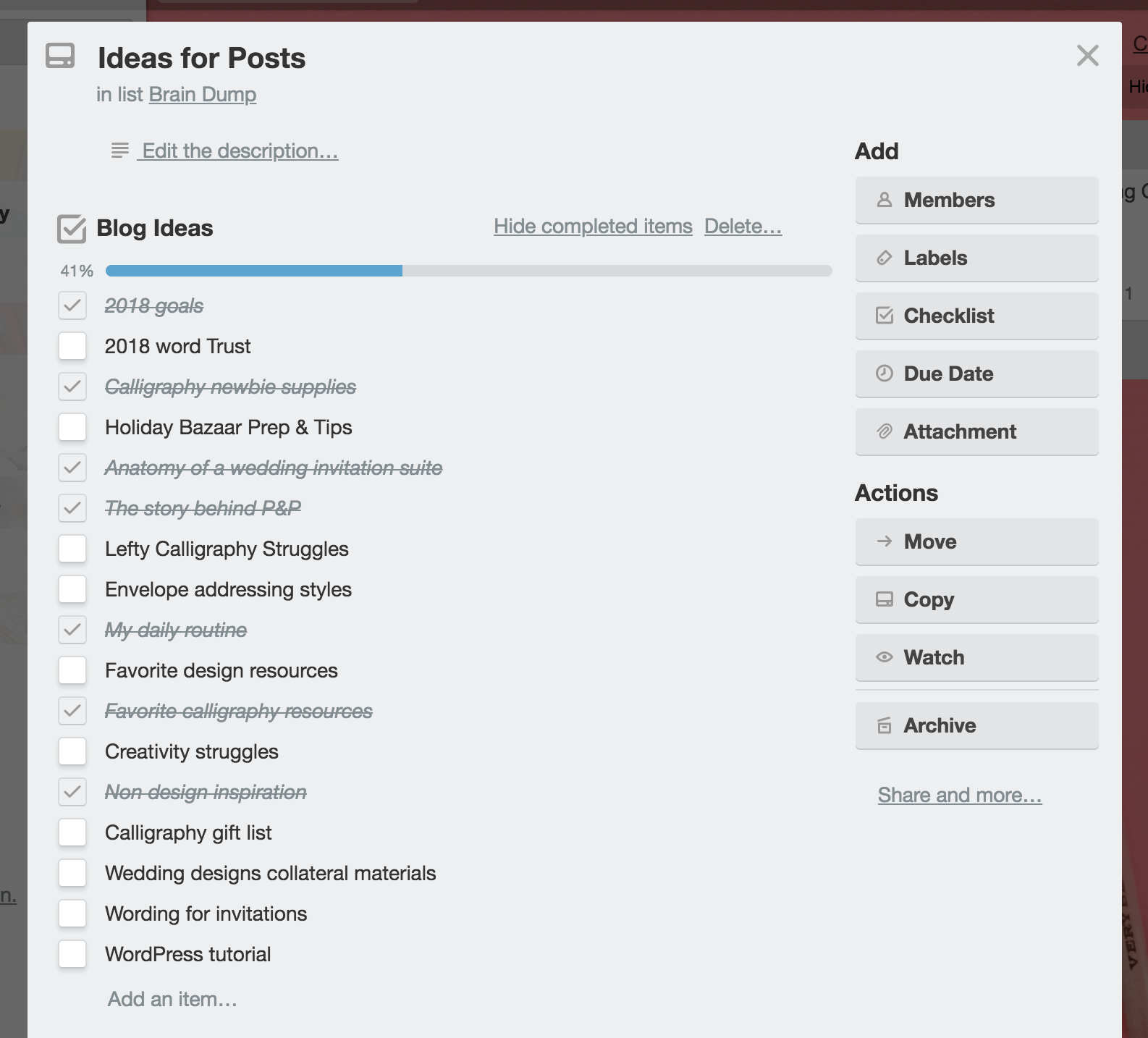 Graphic Templates
I know that words are the foundation of blogging but I also spend a good amount of time creating the graphics and editing photos to fit my branding. I have a variety of templates I've designed to help streamline the creation of my blog graphics and keep them consistent each week. Depending on the type of blog post I'm running I sometimes have additional graphics like flowcharts or infographics along with photographs and headers.

Workflows
Besides having all my posts scheduled and idea list to pull from I also have a workflow that I follow every time I post in order to stay organized as a blogger. This helps me make sure I don't miss any steps along the way. The workflow of each blog post includes everything from starting the draft to editing and formatting the post plus creating the graphics and finalizing when I schedule the blog to be published.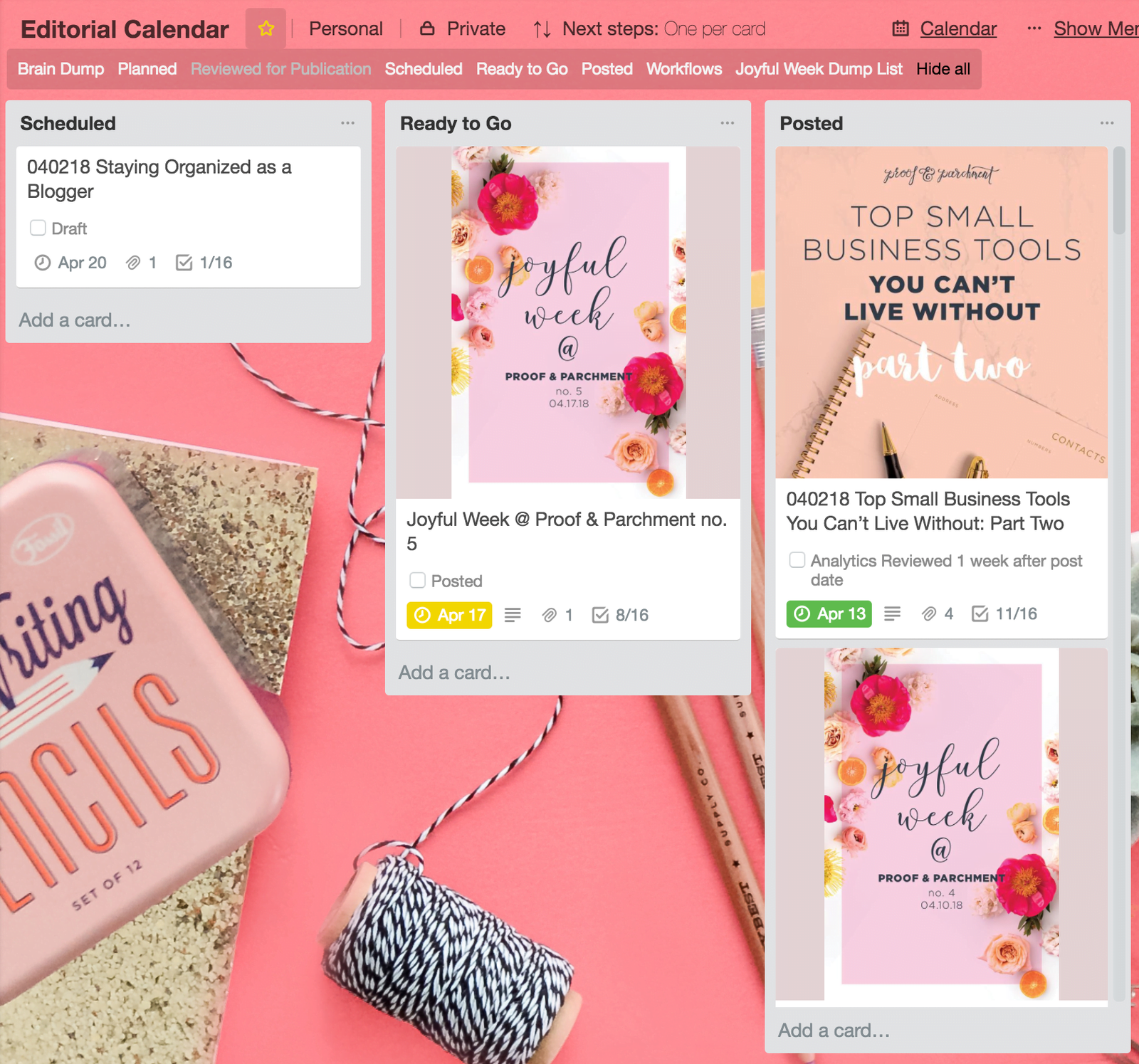 Follow Up
After I have hit the publish button on each blog post I have some follow up workflows that I have set up. That includes promoting each post on social media and tracking the post's metrics.
Overall I am able to follow these organizational tips by using great online and paper planning tools. You can learn more about these in past posts if you're interested: Top Small Business Tools No. 1 and No. 2, How to Use Digital and Paper Planning Tools Together, and The Daily Grind at Proof & Parchment.