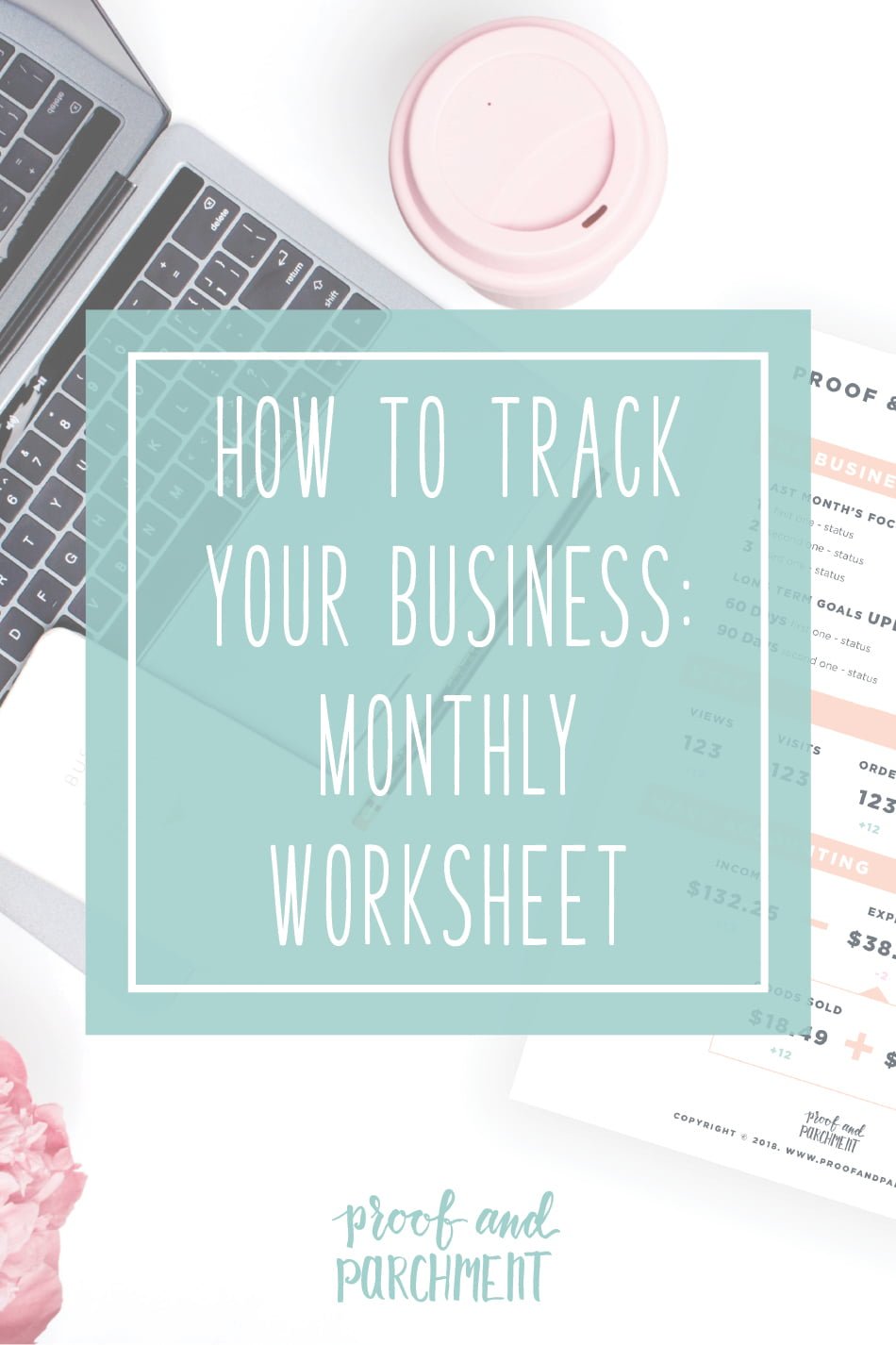 How to Track Your Business
Since I've been running Proof & Parchment for over 6 months now I have only been loosely tracking progress and keeping everything organized with great tools mentioned in other posts here and here. But looking at the big picture and setting monthly goals that I can track has not been the top of my to do list even though it probably should have been. I am now (finally) starting to track certain items month to month and will be able to easily see when I hit milestones and hopefully be more intentional with how I go about running my business. In order to be successful I created a monthly tracking worksheet which I hope will help with the success of my business. I also want to share what I'm tracking so you can use the information to track your business too!
The Business
I know the numbers and followers and everything are super important stats to track your business however I start my worksheet with more of the overarching goals and focus since I think that sets the tone for the month and is nice to review before moving into the numerical details.
The beginning of my worksheet is set up listing the 3 key focus areas from the past month and 3 key focus areas for the next month. The reason I do this is so I can remind myself what I wanted to focus on and then I can reflect back to how I did on those areas. And based on if I hit those focus areas I can change up the focus for the next month or use some of the same ones if needed. I keep the list to 3 so I have to be pretty intentional about what the big focus for the month will be. This helps me with my weekly and daily to do lists and prioritizing what to work on when my brain is spinning.
I think this will also be fun to look look back at over time and would also be a great way for you to track your business!
The other big part that I track under the business category are a few long term goals. In this section I again list the previous month's goals along with new ones that way I can reflect back and see where they stand. I have 3 time based goals (30 days, 60 days, and 90 days) that way if the 60 day goal from last month is on track I will move it to 30 days the next worksheet, which is a nice way to visualize my progress.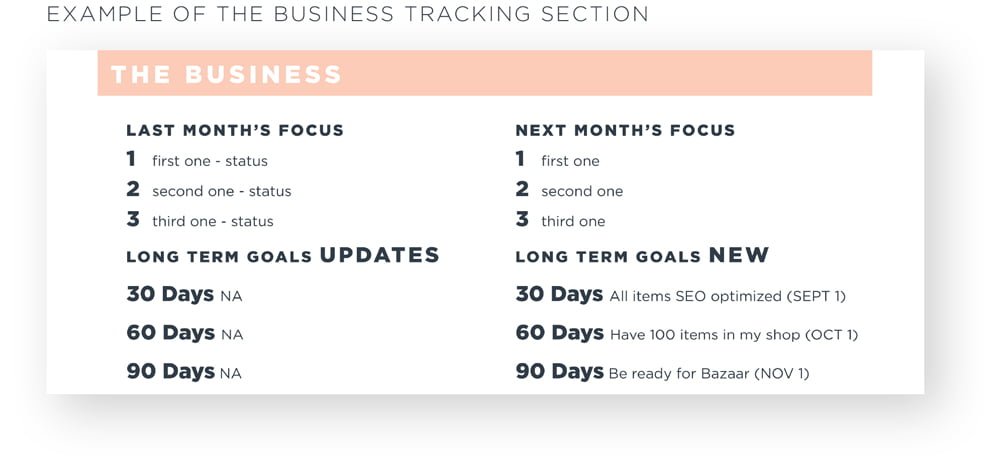 The Shop
The next part of my worksheet involves tracking my storefront which is on Etsy. This might not directly relate to other creative businesses but can always be tweaked to fit with your own offerings whether you sell products or services. These are the specifics of what I track in Etsy:
Traffic – views and visits
Conversion Rate (orders divided by visits)
Listings in my shop (I track this because it is one of my long term goals to add enough items to increase my visibility in Etsy)
For all of my stats I think include a smaller figure below the monthly one that shows the change from the month below. This will help me to drill down what went well and what maybe didn't do well that month.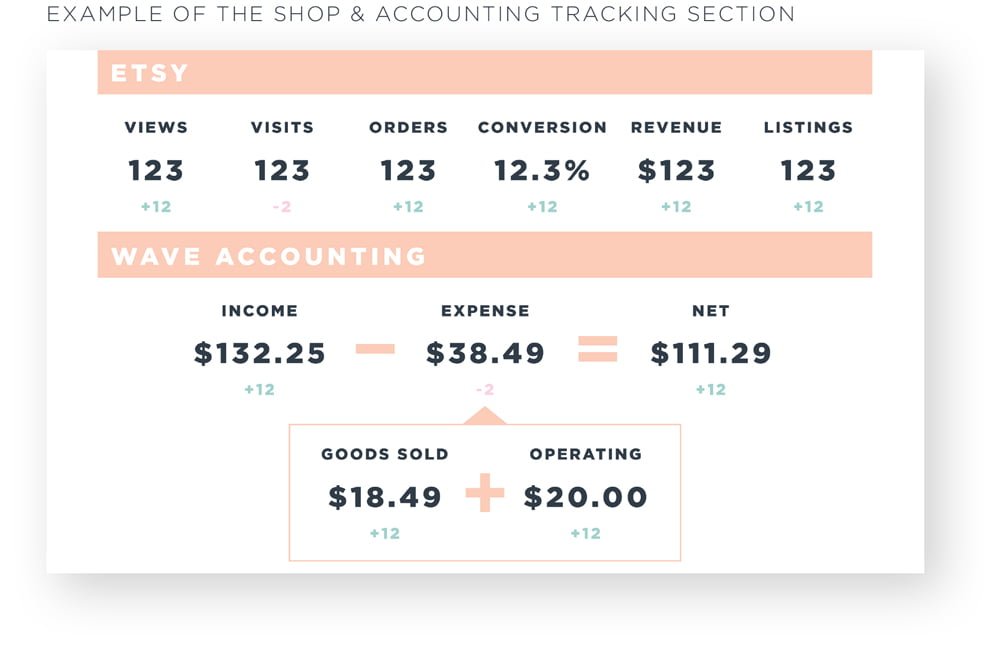 Accounting
The other big part of my business is tracking my finances in Wave. I do show my Etsy income in the shop section but that tells just a fraction of the money story. In this section I dive more into the details, however I don't list every nitty gritty detail. If I want to dive deeper into a number I will do that after I am done with the worksheet and reviewing it. Here are the figures I am tracking that I'm sure you should also use to track your business:
Expenses (breaking down to goods sold and operating costs)
Email
The first part of my worksheet included all of the bigger overarching categories to track your business, while the second part is more of a detailed look at a few important areas that I feel impact the success and growth of my business.
Starting with email which I use to send out monthly newsletters along with updates to Proof & Parchment and any sales or specials going on. There are so many stats available when looking at the data online but I try to focus in on the most important numbers that I can take action to improve on: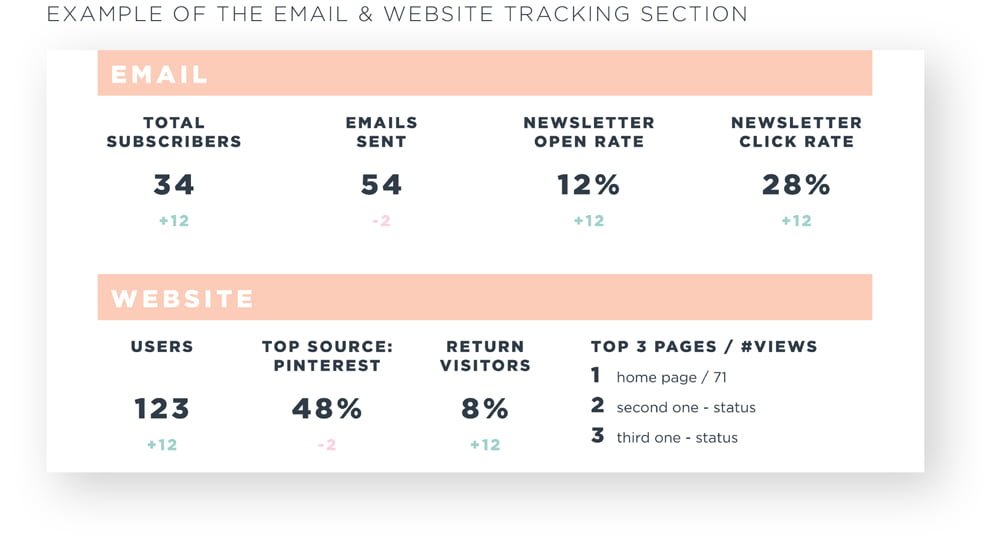 Website
The bulk of my income does not currently come from my website since my shop is on Etsy. However it's still important for me to track my site's metrics so I can see that it is also growing plus it shows if my social media and email campaigns to get people to my content are working. Here is what I track through Google Analytics:
Top souce & the percentage
Top 3 pages and their total pageviews – I like to see these stats because it shows me what content from my blog people are flocking towards that way I can focus on similar content in the future
Social Media
There are quite a few ways that you can use social media to track your business and depending on which ones you use the most will impact what numbers you focus on. I use Pinterest to really drive traffic so I look at a few more numbers there. Besides Pinterest I also use Instagram and Facebook. Both of these are good for engaging with others but I do not track to much data from them currently.
Monthly Review Worksheet
I really hope this post can help you track your business or at least give you ideas of how to start tracking your business details in the future. Starting a new business is never easy but being able to be intentional on what you work on and track wins over time is a great way to stay motivated and accountable! You will receive access to my freebie vault where you can find a blank version of the worksheet by signing up for email!
Also if you are interested and I gain the courage maybe I can share some of my filled out worksheets in the future, just let me know if you want to see them!