At Proof & Parchment I work from home most days (check out a life in my week if you're interested to know more!) which means I don't need too many "on the go" items. However I do love getting out of the house once in a while to change up my working environment. Plus there's the occasional client meeting that I have in person. For these occasions I need some working on the go gear to make it easy to work from anywhere. I don't need too much working on the go gear since it's not everyday that I'm traipsing around town. But I do need a few functional & of course fun items. I thought I'd share what I personally use & would recommend when leaving the comforts of home while working!
Backpack for Working on the Go
This is the most important item on my list. Especially since when I am working on the go I always need my laptop and sketchbook. Therefore I need something reliable to carry it around town.
Side note, for awhile I was using my laptop case and throwing it in any bag I had laying around. Or I was using a bigger travel backpack when I needed more space for other items. This kind of worked but got to be cumbersome moving my stuff from bag to bag depending on the situation. And it was also not always the easiest on my back and shoulders to lug everything around in these various ways (hello heavy shoulder bag always slipping off!).
I eventually became tired of temporary solutions and finding the right backpack became a priority. Based on my needs I landed on this bag and have been super happy with it! There were a lot of styles to consider but these were my non-negotiables and things to consider if you're looking for your next bag:
Laptop pocket: mine had to fit a 15" MacBook Pro
One outer pocket: needed for quick access to essentials like wallet, metro card, keys
One main interior section: I did not want multiple sections to dig through for my items
Zippered closure: I considered the drawstring or rolled styles but ultimately preferred this style
Good straps and back support
Good reviews
Stylish: Very subjective but I didn't want a "school" looking backpack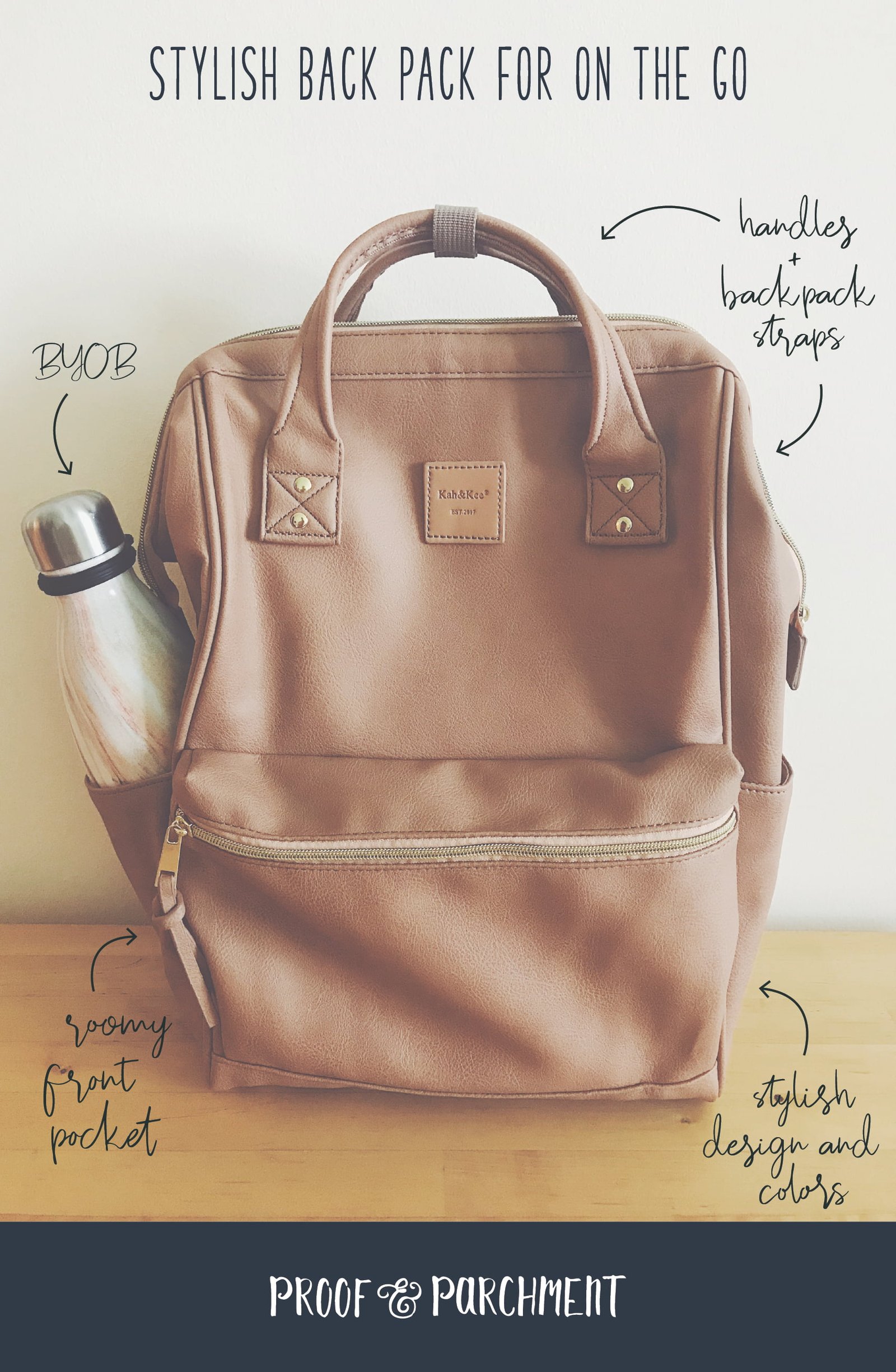 The bag I chose was a Kah&Kee travel backpack and hit all the marks plus had a few extras that I love. It has one main compartment that opens up perfectly so I can see everything in it. Plus it has the outer zippered pocket along with another small zippered pocket on the inside. An extra feature that a lot of bags have that was not a priority are the exterior water bottle holders. They are nice for fitting smaller bottles and I'm sure I will make use of them.
Other Essentials for Working on the Go
Finding the backpack was priority for working on the go and is perfect for to tote around the rest of the essentials for working on the go.
Water bottle
I love my MIRA water bottle. It keeps my water so cold whenever I am out, plus it holds quite a bit of water to keep me hydrated. I also love all of the fun colors available!
Power Bank
My phone's battery is not always the best so I like to keep a spare power bank with me to be able to quickly recharge it while I'm on the go. This helps so I don't need to find two plugs for my phone & laptop if I'm working out of the house for a longer period of time. I bought one from an electronics store before a recent trip and am now forever hooked on having it with me. There are so many options for them, here is just one option from Amazon.
Pencil Case
Since I prefer one compartment for my backpack I like to use smaller bags to contain my supplies. This makes it easier to remove them from my bag when I switch from working at home and on the go. I don't need anything too fancy but I do like fun prints and switching them out based on what supplies I bring along (brush pens, pencils, calligraphy pens, etc). These area a few of my favorites: this one from Lily & Val, this Vera Bradley one, and I also have custom ones too in my shop here.
Wallet
A wallet may not seem like something to consider for work on the go but maybe I can change your mind! When I travel for work, I use my backpack as my purse, so I take this into consideration when choosing a wallet. I need something that is easily transferred from my purse to backpack but I also want something compact. I love this wallet since it hits all these marks and also fits perfectly into the front pocket with plenty of room to spare.
Headphones
I am not an expert when it comes to headphones and basically use whatever I have lying around the house. But either way they are essential when I travel. I always have a pair for my iPhone and my computer. Currently I switch between my apple earbuds and these bluetooth ones. Maybe I will upgrade at some point.
Did I miss any supplies that you need to work on the go with? Let me know in the comments!