5 Ways to Stay Organized for the Holidays with Trello
Today I'm combining my favorite things: being organized, using Trello, and the holidays! Seriously this is making my life so much easier this holiday season by keeping everything more organized and stored in one place. I use Trello for my business EVERY. SINGLE. DAY. (more Trello goodness here & here) and now I'm using it in my personal life planning too! I still have a paper planner (love my inkwell press – referral link) and I will also make paper lists but these tools all feed into my Trello holiday board. Plus once I had my board all set up it's good to go and use for years to come. So check out all the fantastic ways I use Trello to organize my holiday planning. Plus here is a link to sign up to Trello for free (affiliate link). Once you are signed up be sure to join my email list for instant access to the Proof & Parchment vault where you can will have access to my holiday planning Trello board, along with other fun ones that you can copy to your own Trello account and tweak it to work for you!
Gift Lists
Whether or not you have a large list of people to buy for, using the card system in Trello is a lifesaver. Especially if you start early in the year. In my list I break it down to 2 lists, one in progress and one completed that way I can visually see what is left to get done. The great thing about the lists is that I then have a card for each person I'm buying for. And in the card I have a checklist of what needs to be done, along with all the gift ideas I have (links included). This makes it really really easy come buying time. Or if I find something early in the year I can mark it all down here and then I don't have to remember off the top of my head what I've already done!
I also have a card dedicated to budget (scary!) But it's nice to have a place to break it down and you can go as in depth as you would like, from a simple dollar amount per person to a spreadsheet that you update and track throughout the year. The type A in me looooves when I get to move a card over to the completed list!
Bonus tip: once the holiday season is over you can copy all of the cards and archive the original ones. That way you have an easy start for the next year!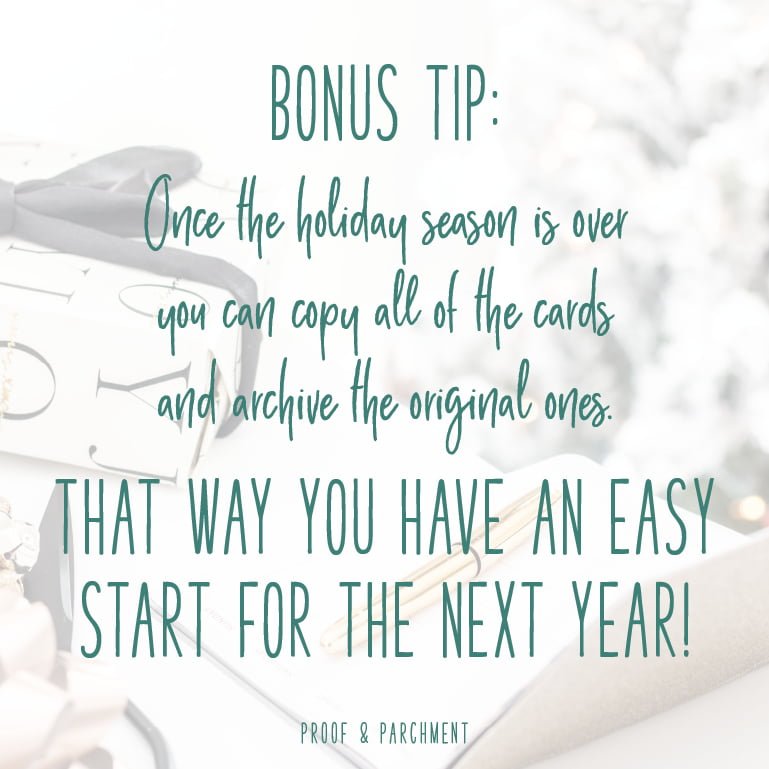 Holiday Cards
As a stationery lover holiday cards are one of my favorite things. Which means I definitely love sending them out every year. Snail mail will always be fun for me to send and receive. That means I give holiday cards their own list. I have a few important cards with this one including a link to my address book made with Google Sheets, a checklist for creating the holiday cards, and a card with all of my ideas for the design. You can also add cards with links to options you might order or designers you want to have make them for you.
Calendar
Trello does have a calendar function and it's one feature that's not my favorite, but I still use it for certain boards especially my holiday one. While I mostly use my Google calendar I like having this list in Trello so I can add anything and everything calendar related even if there's not a date scheduled yet. This way I can see the whole list of events in one place versus seeing the items on the specific days in Google. It can get a little repetitive but it works for me, so do what works best for you here! I do like that I can add as much or as little information in Trello too with each event like links to the information, all the flight details for travel and more.
To Do List
My to do list on my holiday Trello board is again split into a plan section and a completed section which makes me feel accomplished when I get to move a card down the list! This list is pretty much anything to do with the holidays that I don't want to forget and doesn't necessarily relate to a date which is why it's not just a calendar event. Like putting up the Christmas decorations or baking holiday treats!
Some of these items definitely go in my paper planner but if I think of them while I'm out of the house it's so easy for me to add them in Trello to remember later.
Resources & Links
These last 2 lists are kind of like catchalls. They could potentially be one list but I keep mine separate for various reasons.
On the resources list I like have each card have a topic like my own wish list and then on that card I can list ideas, links, etc on what I want for Christmas. Same with the a holiday activities card, on there I have a whole checklist of ideas of things to do over the holidays as date ideas or family activities. Then I can pull from that and add events to the calendar list as I need. Another fun resource card is Recipes! I love the classics when it comes to Christmas but I also like trying new things so I keep track of these on this list.
For the Links list I use it as a list for any website link that I go to frequently and I give each website it's own card. This makes it super easy to visually find a link I'm looking for. You could put a recipe card here with a picture of the item so when you go to find it, it's super easy.
Communicate
The last way I stay organized overall during the holiday season is to communicate! However this does goes outside the realm of Trello for me. You can definitely share aspects of your holiday Trello board with family members if they are up to using it too. But make sure you don't share the wrong cards and don't have it all public if you have secret info like gift purchases, addresses, etc on it. Since that can get a little bit messy I don't share my board with family, I only share parts of it with my husband so we can be on the same page.
When I'm communicating at a larger scale with family members I actually use Slack which I'm also in love with (even though I haven't mentioned it before). It's a great collaboration tool that businesses can use in so many ways. But I use it with my family and it works great. We have different channels for all areas of communication, and this time of the year we have a holiday channel to discuss and communicate about what is going on. This works better for us instead of long email chains or trying to text message the family. It's basically our own internal social media between the family. If this sounds like something your family might like then check it out! As long as you have a good way to communicate as a family especially over the holidays is what really matters!