I'm all about modern calligraphy if you couldn't tell! I love everything about it, creating lettering pieces using a traditional tool with a modern flair brings me so much joy. I also have seen this becoming more and more trendy which is great because I think anything that is creative and done by hand is a good thing to be trendy! Personally, I incorporate modern calligraphy into my everyday life in so many ways, from addressing regular snail mail with my pointed pen to plenty of lettering pieces hanging in my home featuring calligraphy work. Since the holidays are all about joy I wanted to share these ways to bring modern calligraphy into your holiday season!
Gifts
I love giving unique gifts! Especially now as a small business owner, being able to support other small businesses is my favorite. Plus there are so many ways to incorporate modern calligraphy into holiday gifts. If you're looking for calligraphy supplies as gifts then be sure to check out this previous post with all things calligraphy. But if you want additional gift ideas, here are a few more modern calligraphy ones:
Wall art
Calligraphy books
Classes
DIY At Home
Adding calligraphy to your home decor is really fun and can add some uniqueness to your decor. I love the idea of ornaments with calligraphy on them whether it's a holiday message or a custom saying for your family. You can also incorporate fun placemats or tablecloths with calligraphy! DIY is always in style and incorporating some modern calligraphy can take it to the next level. I have found some super cool DIY examples on Pinterest, here are a few of my favorites you should check out! Also you can see even more ideas on my DIY Pinterest board.
In the Mail
Snail mail is my favorite thing especially as a stationery lover! So why not try out your hand at some modern calligraphy or fauxligraphy this holiday season. It's sure to make others smile when they receive their card. Or if that's not your thing then you could at least get a fun return address stamp using some calligraphy made for you!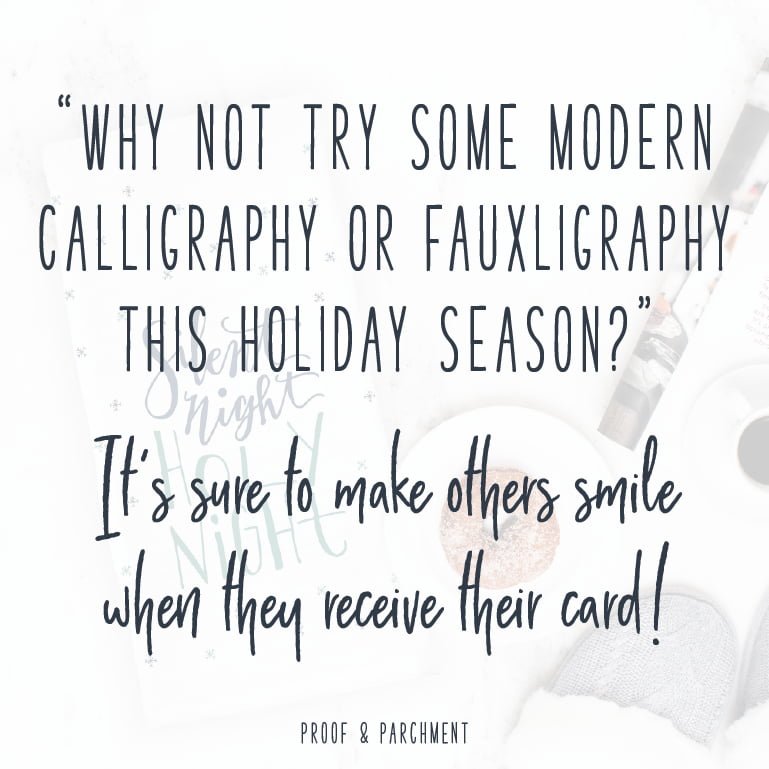 Calligraphy for the Holidays!
I hope these ideas have inspired you to add a some hand touched elements to your holiday season this year! All of these ideas range from simple to elaborate so start wherever you are comfortable! If you do any of these please share them with me or comment below if you have other ideas. Thanks!